Each day is a new start
To embrace my world,
To open my heart.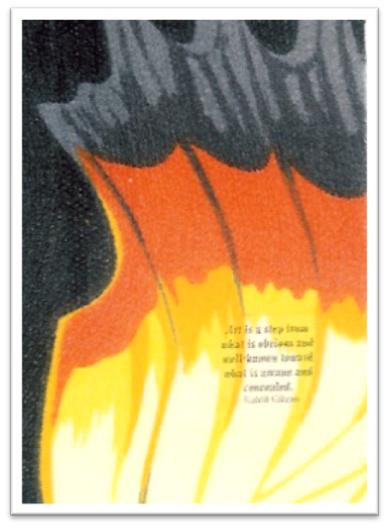 Life is throwing some very tough things at me right now and I refuse to let it get me down. Focusing on the negative drains my energy and leaves me with no resources to deal with the obstacles life presents.

Positive affirmations and cognitive behavioral therapy are two ends of the spectrum of names to call what I'm doing. Mostly it's a matter of turning things around, of seeing the world in a positive way. Or of letting go if there's nothing I can do.

Turning obstacles into challenges is one of my biggest hurdles. I'm pretty techie but there are "challenges" in having three internet shops and a new blog that keep trying to overwhelm me. Instead of being reduced to tears, which is the easiest way out for me, I do what small things I can and don't even look at the really big things. One of my small things is lerning "SEO".  Six months ago I didn't even know what it is. (I'm sure someone who knows more will object to my definition, but basically it's a matter of describing what I put on the internet, the art in my shops and the subjects in this blog, in the terms that other people will use to search for them.) But by learning a little bit every week I've gotten pretty good, I hope. It's all about taking baby steps and the big job gets done.

Positive affirmations are my mainstay. But they have a secret. While it's great to repeat some wonderful and inspiring phrase, it has no power unless I feel it. It's all about changing the feelings inside me so that I can really believe these cute little phrases I repeat. I'm programming my own mind to think about myself and my world differently by putting positive feeling and emotion into these thoughts. Simple repetition serves a purpose when I'm trying to block out something horrible, real or imagined, that's running around in my brain. But when I really listen to what I'm saying, I start to feel the truth of it. I may not believe it yet but with focus and repetition it becomes real. It's just as easy to dwell on what a wonderful person I am as to focus on what a slug I am.

Bottom line is that it's more fun and there's more energy in life by focusing on positive things. Things like, okay this is really tough but I'm doing my best and that's pretty darn good. It may not be done at the end of the day but I know I did my best. And when I know I'm doing my best, I have more energy to keep trying. If I stop trying, if I just lay down and quit and say I can't do this, then I'll have nothing left. I might as well crawl into a hole and pull it in after me. If I keep working to convince myself that I'm a really good and talented person then I have a chance someone will agree with me. If I keep reaching out and offering my best to the world then just maybe, somehow, someday, the world will return the favor.
"Whether you think you can or you think you can't… You're right"  …Henry Ford 
So that's what helps me get through the day. If this works for you or you have other constructive ideas, let me know. The more we share the more we grow!