New Toys. 
I was fortunate enough to receive some very cool toys for Christmas. Never underestimate the value of toys to a grown-up.

One of the biggest challenges I find in gift giving is to find good toys. I need to entertain the nieces and nephews, ages 21 to 4, and of course, my husband. But this challenge is also a gift to me. I get to exercise my inner child, to remember what I would like. The kids need stocking stuffers and nice puzzles have gotten to be a staple, lovely carved wood or intricate wire. They cover the age range nicely. My husband is tougher. What to get for an engineer! But there are places like Edmund's Scientific with some wonderful techie toys, so that's getting easier.

I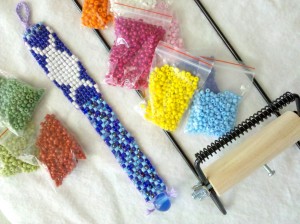 don't usually buy toys for myself. But as an artist I'm constantly looking for new ways to expand and grow my art. This year I received some gifts that really make my heart sing. My inner child was thrilled with a beading loom. It's not big or fancy but it's full of potential. I had to sit down right away and create a simple bracelet. I've done some others with needle weaving but I really look forward to seeing how far this more simple method will go. You'll be seeing things developed from this showing up with runes and metaphysical designs soon (I hope).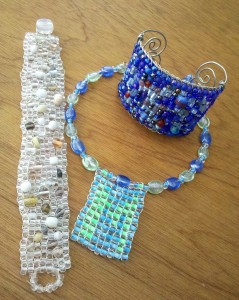 But the real treasure is something totally new that I've never tried before, a Sumi-e set, Oriental brush and ink painting. I've always loved this kind of work, almost anything of Oriental art. It's going to take a lot of study and learning a whole new range of skills. I'll show you some pictures as soon as I've had a chance to play with it. (Beading was more instant gratification.) But this is the most exciting thing about a new toy, no matter what your age. It's the challenge that isn't work, learning to do something different and enriching with no pressure.
So think about that next time you're faced with the challenge of conjuring up your inner child. Think back to the fun of exploring something you didn't know. Think about how cool it was to learn about finger-paints or Silly Putty. Let yourself be a child again and buying for children gets a lot easier!