Winter rainbows 
So I'm thinking of how easy and hard it is to create anything.  Start with a simple idea and build with it.  That's the path of life.  Everything seems simple enough, but twists and turns have a way of educating and inspiring me to do better, or at least more than I ever imagined.
I like the idea of winter rainbows.  Iridescent snowflakes and frost on the window.  I have new products in my shops and snow outside my window.  Here's my first new listing for today.  Rainbow of votives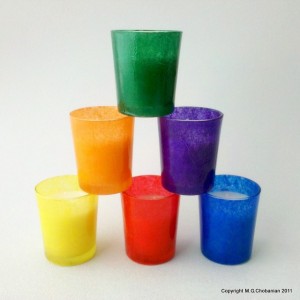 I love the purity of the colors.  They're like the snow, simple, elegant, and with their own power.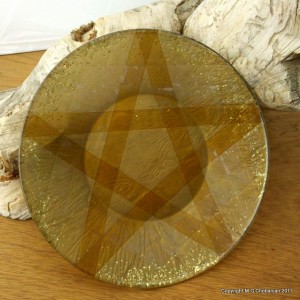 I also listed two new plates. Red Glass Offering Plate and Gold Glass Offering Plate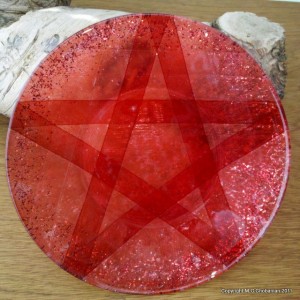 Some time ago I was experimenting with weaving ribbon to make backgrounds.  It works well for quilts but I wanted to try it in decoupage.  This is one of those simple ideas that became really complex.  These started with the pieces of colored and white iridescent ribbon woven into a single piece.  Then I pinned it all down to a piece of plastic wrap so I could transfer it to the plate.  And it turned out to have no impact at all, blah in fact.  That's when I got the idea to jazz them up a little so on went a border of glitter and a layer of tissue.
And they grew like snow drifts, gaining personality and impact as I worked with them.  I'm always amazed by the things I create after they're finished.  When they leave my hands they take on a life of their own.  Perhaps completion generates synergy.  They become more than the sum of their parts.  The flow of life can do that, when every action I take sends a ripple.  Maybe it's sharing a bit of beauty through my art and maybe it's through just being nice to the lady behind the cash register.  This is starting to sound like a Christmas movie.  But I'm counting on this kind of synergy to lead my life somewhere I haven't seen, around some bend in the path that will insprire and amaze me.
So I got to share these pretty things with you.  Pass it on.  Share something nice with someone today.  Maybe it'll take your path someplace new and amazing!